Save young people and save on taxes!
Your awesome year-end support of the Dawson McCallister Association will help reach, rescue, and restore teens and young adults through the power of God's love — and it can mean significant tax benefits for you and your family, too.
Here are three strategic and timely options for giving before December 31:
IRA rollover. If you are 70-1/2 years of age or older, you can donate up to $100,000 as a distribution from your IRA and not add a penny to your taxable income — and this also counts as part of your required minimum distributions.  Even if you don't itemize deductions, giving from your IRA allows you to experience a tax benefit for your generosity.
Appreciated property or stock. When you donate appreciated assets you have held for a year or more, you receive a charitable giving deduction for the fair market value of the asset and normally avoid capital gains tax, too. The chart below shows how this works.
Cash. All cash gifts dated and postmarked by December 31 may also apply to this year's taxes
For more information, contact Mark Gries at mgries@thehopeline.com or 605-366-3951. Thank you!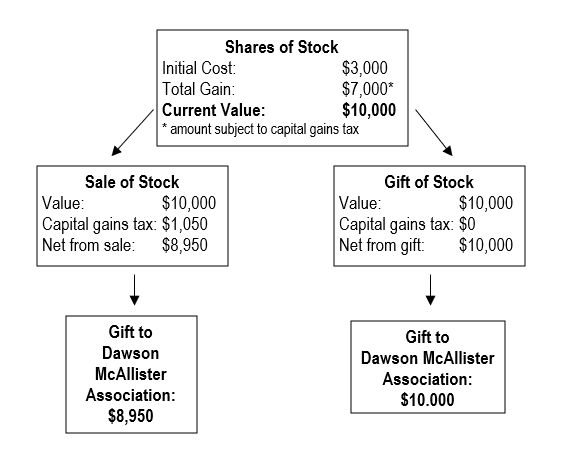 In this scenario, $1,050 in capital gains tax on the appreciated value
is avoided by donating the appreciated stock
directly to the Dawson McAllister Association.