Welcome to The Prayer Show!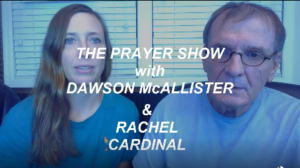 This is an awesome live show where Dawson McAllister and his co-host, Rachel Cardinal, get together and pray for our listeners and callers.
We know that God changes lives through prayer … and that's what this new show is all about — building a community of love and hope, people of all ages who are seeking God's power in their lives through prayer.
Join us as we lift our concerns and struggles before the Lord.
We video livestream on multiple channels, 4 times a week
Pray … and be prayed for!