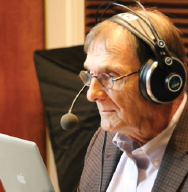 I won't mince words. There's a lot of hurt and pain and ugliness in our world today. And frankly, our kids … the youth of America … are paying the price. They couldn't be more lost and confused if they tried.
That's why I thank God for you. 
Because of Daniel — Charles — Faye — Kaavya — and so many more …
You've helped me shine the light of Jesus Christ into the darkness of their individual worlds. You entered the minefield of their lives and extended God's grace and peace.
You gave them hope. You helped lead them to Jesus.
And you do it over and over and over again … for countless hurting and broken youth like them. Thank you.
I'm deeply grateful to the Lord for you and the ministry you make possible. Keep up the good work. Keep reaching, rescuing, and restoring lives. God bless you. Happy Thanksgiving!
Your friend,