As I sit here thinking about Fulton's accident and how God has continued to use it, it's amazing to me. For example, I had no idea I would send out any emails after the accident, but God has his own plans. Nearly ten years later, here I am, writing these weekly blogs, and God in his grace always gives me something to say. For example, as you probably know I sent out a picture last week with Fulton and his scraggly hair. Here it is again: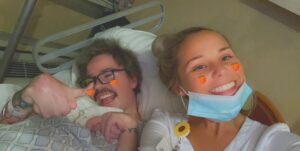 I was touched by the responses and words of encouragement. It's amazing, people just overlooked how messy his hair was. It gave me such joy knowing Fulton is loved just the way he is.
Look at what Ron and Nancy Tschetter wrote:
"Hey, Dawson, Fulton looks like he is having a ball. No worries over the hairdo. We've got grandkids that come in out of a windy day of play and look like they need a hairdo makeover. It's all fun in the end and we can overlook the little stuff in appreciation of the 'Big Picture'."
Here's another remarkable response from Lewis Long:
"I love the picture! God want us to smile and have fun, no matter what's going on. I enjoyed the picture. It helped me to feel less pain. God is so good and that smile can help somebody have the same joy."
What beautiful responses! Little did I know, I would need the intense encouragement I have received from you after all these years. God knows, he had a plan all along. I praise the Lord for your encouragement!
"Dear brothers and sisters, I close my letter with these last words: Be joyful. Grow to maturity. Encourage each other. Live in harmony and peace. Then the God of love and peace will be with you."  (2 Corinthians 13:11)
Your Friend,
Dawson