(by Dawson McAllister)
I get calls about dating relationships more than anything else. No doubt everyone is looking to be loved by that someone special, and no question that the dating world is tough. Unfortunately, I hear from far too many people with broken hearts because they rushed into a relationship to quickly, threw sex into the mix way too early and ended up in a world of hurt and confusion.
I try to encourage them
…to slow down
…to consider the difference between infatuation and love
…to stop trying to fill the hole in their soul with another person who will let them down every time
…and to ask themselves some really important questions about their boyfriend or girlfriend before diving in too deep.
I've given a lot of advice over the years and I'll share a bit of it here. If you have teens or young adults in your life, perhaps something below will serve as a conversation starter about dating or a question you could ask to get them thinking about a relationship they are in.
SLOW DOWN!
People don't fall in love. They fall in ditches. It takes time to develop real love. When you rush into a romantic relationship here are some pitfalls you will encounter. You:
Say things you don't mean.
Make promises you can't keep.
Dig a hole that's hard to get out of.
Arouse expectations you can't fulfill.
Trust your feelings rather than reality.
Find it easy to make wrong choices.
Don't give the relationship time to grow in a healthy way.
Keep looking for more emotional thrills and the normal, day-to-day relationship becomes boring.
End up spending too much time with the one you're dating, and excluding your friends.
Believe in the myth of love at first sight. There's no such thing. There's good chemistry at first sight, but not love at first sight.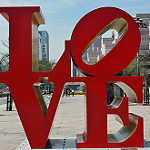 ASK YOURSELF IF IT IS REALLY LOVE?
So often I hear a caller say, "I am in love." When in reality, it is not love at all. Sometimes it's infatuation. Other times it's nothing more than raw lust. Often the person I am talking to has already jumped in with both feet and been terribly hurt by the person they thought loved them. If they had only stopped to consider…is this really love?

But how do they know if it is really love? Here are some things I tell them should naturally and mutually occur in a true loving relationship:
You are excited to be with each other and are happy when you are together.
You make each other feel special by the things you say and do.
You respect each other. Not only when you're alone, but also when you are around other people.
You are patient with each other, even when one of you makes a mistake.
You speak well of each other to other people.
You protect each other.
You communicate with each other frequently. Talk about what's going on in your life and what you are feeling.
You listen to each other.
You are sensitive to each other's feelings and needs.
You put each other before yourself.
You trust each other.
You show respect for each other's parents and other friends.
You are willing to make sacrifices for each other.
You tell each other you love them.
This kind of loving relationship is described in the famous love chapter in the Bible…"Love is patient and kind; love does not envy or boast; it is not arrogant or rude. It does not insist on its own way; it is not irritable or resentful; it does not rejoice at wrongdoing, but rejoices with the truth. Love bears all things, believes all things, hopes all things, and endures all things. Love never ends." (I Corinthians 13)
HOW WELL DO YOU REALLY KNOW YOUR BOYFRIEND OR GIRLFRIEND?
Take this Dating Quiz before you jump in:
1. Can you trust them? Can you trust him to protect your safety and not to take advantage of you? Do you trust her to speak well of you and tell you the truth? Can you trust them at a party? Can you confide in them and trust them to keep it to themselves?
2. Do you know what he or she is really like? Are they willing to talk about common interests, as well as personal stuff like faith, values, and goals for your life?
3. How do they react under pressure? That's when our real selves begin to show. Do you like what you see?
4. Do they have a good reputation? Talk to people who know him or her. Everybody has a reputation. There's an old saying that goes, "The street seldom lies." Usually a person's reputation is pretty close to accurate. Involve trusted friends.
5. Are you on the same page spiritually? There are no deeper thoughts or values than those that come from our spiritual being. What we believe spiritually determines our values and how we look at the world. Without agreeing on spiritual beliefs, most relationships will crumble.
6. Do they treat you with tremendous respect? Lack of respect will destroy a relationship faster than just about anything else. You've worked on your self-worth and know you are valuable. Don't settle for anyone who treats you as anything less. They should respect you, your body, and your limits, your beliefs.
Every time you open your heart to someone else, you risk getting hurt. And ultimately it is a risk worth taking. If we can only encourage teens and young adults to consider much of the advice above, before getting in too deep!